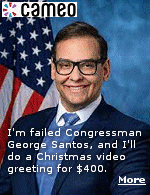 Imagine waking up on your birthday to the usual barrage of well-wishes from family members and old classmates on Facebook. Your friend has posted a mysterious video, and when you click play, David Hasselhoff, (or Fran Drescher, or Billy Dee Williams ) is there, singing happy birthday to you, with a personalized message thanking you for being such a huge fan. You might wonder how your friend pulled off such a surprise.
More
Joe Biden's Senior Moments Volume 71
Ray Stevens - Come to the USA
Where are the airplanes for sale?
I still arrange for ferry pilots to deliver airplanes, but I no longer broker aircraft for sale. More
11:15 AM CT
December 6, 2023
Refresh




From 2010:
There are many who believe Henry Kissinger was involved in the overthrow of governments, assassinations, and prolonging the Vietnam War for political purposes.
More