---
Where in the world are Ron and Hazel?
Our Current Location:

Hazel's health problems have put a hold on traveling in our motorhome, so for now we're at the family Minnesota lake cabin. But, that doesn't mean I have to stop blogging about RV projects and great places to go.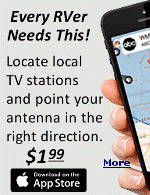 ---
Where are the airplanes for sale?
I still arrange for ferry pilots to deliver airplanes, but I no longer broker aircraft for sale. More

Updated 9:30 AM CDT
August 23, 2019
Refresh




From 2007: