| | |
| --- | --- |
| | |



Today's Global Air Link

It was easy for fans to assume this was a Hitchcock film. A thriller with the right stars, a suspenseful plot with music to match, but it was actually directed by Stanley Donen.
More






Wednesday March 15, 2023 3:45 PM CT Refresh




UPDATES:


The Peters Projection of the World Map
A scene from "The West Wing" explaining it.

The Peters Projection world map is one of the most stimulating, and controversial, images of the world. When this map was first introduced by historian and cartographer Dr. Arno Peters at a Press Conference in Germany in 1974 it generated a firestorm of debate. The first English-version of the map was published in 1983, and it continues to have passionate fans as well as staunch detractors.





| | |
| --- | --- |
| | If you are interested in these flights, call me now at 763-389-9399. |
| | Do you have a flight resume' worked-up? email it to me now. |
| | |





Be notified of
new flights available

If our alerts show as "Spam", add robot@alert.changedetection.com to your email contact list
Edit Existing Alert

---




---




PILOTS:
Check Kayak to see if your airline privileges will get you to the trip origin, and home from the final destination.
CHECK FLIGHTS





To help keep expenses and travel time down, we try to hire a ferry pilot reasonably close to the point of origin or the destination, or at least along the flight path. For example, we wouldn't normally hire a pilot from California to deliver a plane from Boston to Miami.
---
---
Lined-out flights indicate we've already found a pilot.
I post most, but not all flights. Sometimes, I know exactly who to call to handle the job. But, if I can't get the trip covered quickly, I will post it here. If you have time-off coming up, and can handle a flight, please give me a call.



Date:
Aircraft:
From:
To:
Map:
Status:
03/15/23
Cessna 150
The aircraft has a Ferry Permit signed-off for the trip. The pilot will want to talk to the mechanic for details.
Selmer, Tennessee (KSZY)
Thomaston, Georgia (KOPN)
Map
READY NOW!
Airline Privileges, Good Total Time, and Time in Type. sufficient for insurance company approval. The client would like an estimate of total expense, including your daily rate. As for fuel expense, just say "plus fuel".Call me to discuss. 292 miles PTP


03/7/23
1960 Cessna 172A
See Airplane
Bucyrus, Ohio (17G)
Gainesville Texas (KGLE)
The client can take the ferry pilot to DFW for the return airline trip.
Map
CANCELLED
Once again, I am forced to apologize to the pilots who contacted me on this trip, the client found his own pilot, a young man on his field who offered to do the trip for expenses only. I reminded the client to be sure to run his qualifications by his insurance company before the flight.
Airline Privileges, Good Total Time, and Time in Type. sufficient for insurance company approval. The client would like an estimate of total expense, including your daily rate. As for fuel expense, just say "plus fuel".Call me to discuss.


02/10/23
1940 Waco UPF-7
Tailwheel / Open Cockpit / 330 HP 915 Cubic Inch Jacobs Seven Cylinder Radial on the nose with Constant Speed Propeller

Bartow, Florida (KBOW)
Waterbury/Plymouth, Connecticut (N41)
Map
CANCELLED
Client found his own pilot.
Flight Instructor for this type aircraft (client will accompany and wants to log time), Good Total Time, and time in make and model or very similar sufficient for insurance company and client approval. No airline privileges? No problem on this one, having good total and open cockpit time is what is important. The client would like to know your daily rate, will reimburse you for all necessary expenses, and would like to have an estimate of what those would be. Client will be along and will pay for all fuel, meals, and motel rooms for each of you. Call me to discuss. 1066 miles PTP



Abbreviations:
PTP = Point To Point (distance)
TMM = Time in Make & Model
IR = Instrument Rated
CE = Considerable Experience
(TMM, Total Time, Years)
CFI = Certified Flight Instructor
CWA = Client Will Accompany Pilot
OOA = Out Of Annual

How This Works

I am acting as an agent in this transaction, placing you in touch with a client needing an airplane ferried. I am paid by the client, generally $150 for single engine or light twin in the lower 48 states. Finding pilots for over-water or foreign trips is more, or if you require a CFI to accompany you, or an A&P mechanic to inspect the plane before ferrying it. Whatever arrangement you make with the client is between the two of you, and you agree that I am not responsible in anyway for the aircraft or the transaction. Be sure that I have a copy of your flight resume', so that I can provide information about you to the client and the insurance company covering the flight. You fly under the owner's policy.

It is the responsibility of the client to approve the pilot as qualified to fly the plane and make the deal, and to provide insurance coverage. It is your responsibility to deliver the plane and be paid directly by the client. You are not a Kamakazee, and you should expect the plane to be in airworthy condition. Out-of-Annual aircraft, with a ferry permit, are considered on a case-by-case basis.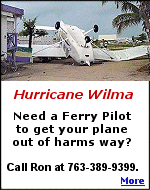 Generally, our veteran pilots charge $250 to $350 a day for light aircraft in the lower 48 states, sometimes more, sometimes less, plus all the expenses of the trip, including fuel, meals, motels, charts, and needed ground transportation. Twin-engine and more complex aircraft generally command higher fees. Time is generally computed from the time you leave home, until you arrive back home. Clients need to get you to an airport for the trip home, and often tip for a job well done.



Clients sometimes ask us for pilots with CFI and CFI II experience, and they want to ride along to log required insurance time. Some ferry pilots charge extra for that service, others do not.



Some planes cruise at faster speeds and take more fuel, but use less motel, meals, and pilot time. Often, the plane is full of fuel at the beginning of the trip, courtesy of the seller, saving the buyer some cost, and pilots tned to fly longer into the evening during the Summer months, covering more distance per-day. Winter trips, on the other hand, tend to take longer and are more expensive. Also, VFR flights often require the purchase of charts, where IFR-equipped planes often have modern GPS equipment, saving that expense. If charts are necessary, we need to pass that expense on to the client, and quote "so much a day for the pilot, plus fuel and charts"... And, again, we remind the client of the custom to "tip the pilot" for good service. Some clients do, others don't.

All parties, including pilot, aircraft owner, and anyone else involved, agree that I am simply providing contact with pilots willing to ferry aircraft, do not warranty the qualifications or abilities of pilots presented, and am held harmless from all subsequent actions.
---
Ferry Trips | Ferry Pilots |Articles | Editorials | Aviation Links | Financing | Videos | Home

For more information, call us at 763-389-9399.
Specifications are based upon owner's representations and subject to buyer's verification. Aircraft are subject to prior sale or removal from market. Registration numbers on photos may be altered or removed to protect the privacy of the owner, and to ensure that buyers will work with us to complete the purchase.