February 14, 2011
Ignoring Clint Eastwood's advice in "Dirty Harry" that opinions, like certain body parts, are best kept to yourself.
---
A tragic end to a wonderful life
Last Friday evening, I was home alone with the dogs and cats, watching television, when the phone rang. The caller identified himself as an Anoka County deputy sheriff, calling about a fire at my in-laws farm house. The house was ablaze, and the deputy was hoping that nobody was home. I told him I would find out and call him right back.

With a sinking feeling, I called my wife at our daughter's house where she was babysitting, and she answered almost immediately. "Hazel", I said, "do you know where your folks are?" Hazel told me they would be at home. "Honey," I said, "the sheriff's department just called, and your folk's house is on fire." I heard a gasp, and so it began, with frantic calls to other family members on my cell phone, as I headed south on the 40 mile trip to to my in-law's farm.



My father-in-law, Walter Ehrnreiter was born in St. Paul, Minnesota in 1917 and became a bit a world traveler, going to the Yukon as a young man, and during World War II his military service took him to the U.S. Airbase at Stephenville, Newfoundland. Wally was a guy that made friends easily, and it wasn't long before he was dating Helen Mary O'Quinn.

Moving back to Minnesota after the war, Wally and Helen purchased a 70 acre farm in Ham Lake, 20 miles north of Minneapolis. With a home built before the turn of the century, the propery had rolling hills, oak trees, and blueberries for the picking. Wally and Helen raised all kinds of animals, including horses, pigs, cows and rabbits. My wife tells of a goat that thought it was a dog, and would butt the front door open to get in the house. Once in a while, Wally would take his shotgun out into the field and bring back a "government chicken" for dinner. You and I know them as "pheasants".

I met Wally and Helen's daughter in college, we dated a few times, but I lost track of her for a while. Later, I worked in Minneapolis, and one day I was looking up a number in the phone book and saw a listing for "Walter Ehrnreiter" in Ham Lake. Could that be Hazel's dad? I dialed the number and Hazel answered the phone. Fast-forward to 2011, Hazel and I will celebrate our 45th wedding anniversary this year, we have 9 children, and we're expecting our 14th grandchild.


I arrived at the farm about the same time as the other family members, parking down the highway, as a couple dozen fire department and sheriff vehicles with blue and red lights flashing took up the area near the road leading through the trees into the farm. There was nothing to do but wait and watch the coming and going of firemen and law enforcement. After an hour or so, a squad car came over to where we were parked and asked us to follow him back to the fire station, a mile or two away, where we got the bad news, Hazel's parents had perished in the fire. At age 93, we all knew that someday these folks would be gone, but not this way, not to die in a fire.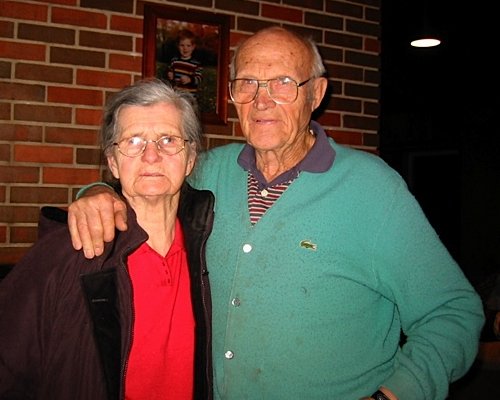 Photo Credit: Glenn Howes (Grandson)

A lot of tears were shed that night, with not much sleep. The next day, Saturday, the farm was still busy with emergency vehicles. The firemen and sheriff deputies had been there all night, making sure the fire was out, and now the medical examiner and fire marshall were doing their work. I sat in my car along the side of the road, waiting for some final word.

After a while, men and women in various uniforms started to come down the driveway, get into their vehicles and drive away. A fireman that I'd talked to the night before saw me and walked across the highway towards me. He reached in his pocket and took something out, saying "When we were removing your father-in-law's body, we saw he was holding this, and I thought you would want to have it:" The fireman handed me a rosary. Composure is hard to maintain at a moment like that.

The fire was the top story all weekend on Minneapolis and St. Paul television stations and in the newspapers:

Minneapolis Star Tribune




Obituary in the St. Paul Pioneer Press





Global Air Aviation Referral Service


---
I welcome responses, and will be glad to post them here. Email your remarks to ron@global-air.com
From my son Glenn in Nashua, New Hampshire:
I have very few photos of Grampa and Gramma, but this is one from Thanksgiving, 2003: ( new window )
---
God bless you all. Through Wally & Helen's love so have we all been blessed with an abundance of love. ~ Barbi Owen-Boerger
---
What a wonderful tribute to Helen and Wally. Two love stories for your children, grandchildren and the rest of us, thank you for sharing. ~ Geri Recker - Mitchell, SD
---
So sorry to hear of this tragic fire. I remember your mom well, Hazel, and we had such a nice time at the Ehrnreiter farm years ago when your son John and our boy Danny were younger. So many years have gone by and so much happens. I'm very sorry about all of this. ~ Carol and Dennis Vohler - Int'l Falls, MN
---
Ron, I am so heartbroken to hear of your loss of family members. May God be your peace and strength through the storm. We are saying prayers for you all. ~ Ken and Kay Lynn Sarkey - Edmond, OK
---
I am so sorry to hear about Wally and Helen. I have so many great memories of time spent with them while John and I visited them in the summers. I always had a great time working and playing around the farm and they always made an effort to keep us busy with all kinds of projects or running errands with Wally. Thinking back to those years, and what busy boys I'm sure we were, really shows how kind and generous they were to welcome me into their home and care for me. I am very privileged I got a chance to know them and very thankful for the wonderful memories they gave me. ~ Daniel J. Vohler - Int'l Falls, MN
---
Thank you so much for the articles on your parents and in-laws so sad to hear of their passing in that way. Our sincere condolences on your loss. we don't think of growing up in our child hood with out thinking of them! or walking by their house on the way to the old Lake Netta store. They will be sadly missed. ~ Billy Kunshier
---
Most Recent Editorial
Recent Global Air Links: