March 11, 2009
Ignoring Clint Eastwood's advice in "Dirty Harry" that opinions, like certain body parts, are best kept to yourself.
---
| | |
| --- | --- |
| Eating out is on the rise. At Soup Kitchens. | |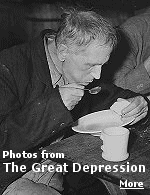 We've always had soup kitchens and food shelf operations, but never so noticable since the Great Depression as in the past year or two. Everyone now knows someone out of work, or is out of work themselves, and some of these people are falling from fairly high salary and lifestyle levels.

As an aircraft broker, I work with a lot of airline pilots to get planes delivered, and lately it seems I talk to at least one a day that is either furloughed, or about to be. No profession or job skill is exempt, with layoffs in every profession. Basic living expenses, food, utilities, and the house payment are topics of conversation, are taking preference over non-essential expenditures, and that list is including Christmas presents, vacation trips, car buying, and I can tell you first-hand, airplane purchases.

The stock market waits and reacts the unemployment numbers, currently running about 7%, well below the nearly 11% reached in 1982, but knowing unemployed people, and having been unemployed myself years ago, I know how misleading that percentage is. It isn't counting people who have been unemployed so long they no longer get benefits, it doesn't count people who have just given up, and are not actively seeking work.

A couple of months ago, my wife got a call from a relative, to get the sad news that they'd lost their home in foreclosure. It was a shock, they'd been married for a long time, the kids were out of the nest, and we just assumed the home was paid-for. It wasn't.

My oldest son lives in Nashua, New Hampshire, and my wife and I get over there a couple times a year, and really enjoy the area. I check the local newspaper now and then, just to see what is going on, and this winter there was a story about the local soup kitchen. An anonymous donor offered to match all pledges up to $500,000 and when the article was published, they've already raised about one-half of that amount.

I did a Google search for "soup kitchens" and up came over 3 million links. It looks like any town with a stop light has a soup kitchen or a food shelf, and they all say how pressed they are in this economy. There was an article written by a single-mother, out of groceries, no money, who had to take her 3 kids to a local kitchen for a free meal. The woman was a well-educated college graduate with a master's degree, who found herself in a situation. If you think this couldn't happen to you, read her story here .






Global Air Aviation Referral Service


---
I welcome responses, and will be glad to post them here. Email your remarks to ron@global-air.com

Most Recent Editorial
Recent Global Air Links: