April 2, 2012
Ignoring Clint Eastwood's advice in "Dirty Harry" that opinions, like certain body parts, are best kept to yourself.
---
Being Young and Dumb in Montana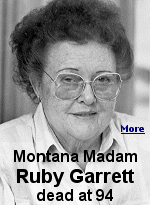 "Grace, I give you the boy. Give me back the man."
Lee Marvin as Ben Rumson in "Paint Your Wagon" 1969

I was in Ruby Garrett's fine establishment in 1964. Seriously, I was. Ruby would have been in prison for killing her husband then, but the place was still operating in her absence.

As a young 20 year old assistant bank examiner, I wound-up there one evening with two of my fellow employees, $15 in hand, and scared to death. One of my friends rang the doorbell and an old woman let the three of us in, and we were escorted to a waiting room off to the right. I remember it was much like what you'd find in a doctor or dentist office, nice chairs, a coffee table, end tables, lamps, even had a few magazines, but who had time to read, and I was starting to wonder what the heck I was doing there.

In a few minutes, the old woman was back with three young women, all dressed in brightly colored baby doll pajamas, with lots of cleavage showing, and all striking a pose not unlike the one Angelina Jolie made famous at the 2012 Academy Awards.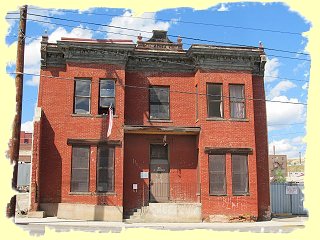 "Here are your girls, boys!" she said, and my two buddies jumped up, each grabbing one, and down the hall they went. I was on my feet, and looking around for the fire exit. The third woman reached out and took my hand, "Come on, honey, let's go up to my room", she said. I shook her free as I started to go into shock, mumbled something about leaving my wallet in the bar, and made a bee-line for the door. "You'll let me back in, won't you?" I lied to the old woman. "Sure, sure ... " she said, pretending to believe me. I was scared to death, any thoughts I'd had about discovering something new and interesting were ancient history, I wanted out of there, and it seemed an eternity for that door to be unlocked and opened.

I waited outside under the street light, and in about 30 minutes my two pals came out $15 bucks poorer, but not minding. We all headed back to the bar, where I was razzed for the rest of the evening for being such a chicken.

Memories. Losing them has to be one of the worst parts of that death thing.




Global Air Aviation Referral Service


---
I welcome responses, and will be glad to post them here. Email your remarks to ron@global-air.com

Most Recent Editorial
Recent Global Air Links: