April 24, 2019
Ignoring Clint Eastwood's advice in "Dirty Harry" that opinions, like certain body parts, are best kept to yourself.
---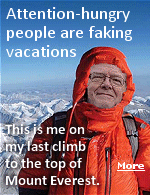 In the 1990 movie "Total Recall" Arnold Schwarzenegger, too busy to take a real vacation, goes for a virtual one, having a false memory of a trip to the planet Mars implanted in his brain. But, an unexpected and harrowing series of events forces him to go to the planet for real. Or does he?

Now, nearly 30 years later, not actually going on a vacation, but telling others you did, is gaining in popularity, and some people are going so far as to post digitally altered photos on social media websites to show what a great time they had. The story of the trip can get better with each retelling.

Why are people doing this? For one thing, travel has gotten really expensive, and some non-travelers just want to impress friends, family, and co-workers. And, to help things along, companies who can provide doctored photographs are filling a need.

Not everyone is so shallow as to fib about their vacations, case in point, my recent trip to the Himalayas to climb Mount Everest.

Everytime I go there, it seems the guide service sticks me in a group of wanna-bees who have no business attempting a climb like this. While they are up there huffing, puffing, and sucking on oxygen bottles, I was dashing for the summit. I didn't want to miss my luncheon appointment the following week with the president of China, who asked for some advice on how to run his country.

Reaching the summit in record time, I took a few minutes to enjoy the view, and snap a few photos before pulling a snowboard out of my backpack for the race back to base camp, roaring past those slower guys in my party who were still heading upwards. I hope they made it.


The following week, I lunched with the Chinese president in Beijing. A great meeting, and you can look forward to seeing very positive changes over there soon.

Next year, I'm thinking of vacationing on the space station, just to help them out a bit.





Global Air Aviation Referral Service


---
I welcome responses, and will be glad to post them here. Email your remarks to ron@global-air.com