June 6, 2023
Ignoring Clint Eastwood's advice in "Dirty Harry" that opinions, like certain body parts, are best kept to yourself.
---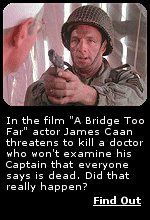 From the article to the left: Charles Dohun (September, 1912 to January, 1994) was a Sergeant in the US Army during World War II. He notably saved the life of Captain LeGrand Johnson during Operation Market Garden by forcing a doctor to examine him at gunpoint.


See the Scene

James Caan agreed to do this movie because of the scene in which he forces a reluctant Army surgeon to operate on one of his buddies at gunpoint. He said, "When Richard Attenborough came to see me in Los Angeles, he offered me the choice of several roles. I chose the Sergeant chiefly for that one scene."

A Bridge Too Far", a 1977 epic that is, perhaps, my favorite and most accurate war movie. Filmed on location in Holland where all the action took place in World War II, "Operation Market Garden" was the largest airborne operation in the history of war, with 34,600 men and 1,700 vehicles dropped from the skies by glider or parachute. Less remembered than "D-Day" because, in the end, we lost. Trying to take one more bridge and failing, it was "a bridge too far".

Based on the best selling book by Cornelius Ryan, with screen play by William Goldman, and directed by Richard Attenborough, who spent heavily on making this film as accurate to actual events as possible, right down to the smallest detail. Filmed in the actual locations in Holland, and little side stories that most would ignore or not even know about, Attenborough got them in.

A good example would be the scene in the airplane when the paratroopers are getting ready to jump and you'll see a chicken pop her head out of a paratrooper's jacket. That actually happened, the man had a bet going that chickens could fly and he was proving it, taking the bird on several jumps, including this one.

When released, the film was panned severly by critics because of the cavalcade of big name stars in the movie, most being paid $250,000 a week, except for Robert Redford, who was paid substantially more, making this the most costly movie of all time in 1977. The character Major General Urquhart, who we follow through most of the movie, was played by Sean Connery. When Connery discovered that Robert Redford, who had much less time on the screen than Connery, was being paid more, he went on a sit-down strike until an adjustment was made.

Now, nearly 50 years later, with most of the cast and crew gone, criticizing the film because the cast included too many big stars is, to me, a moot issue. Robert Redford and Gene Hackman remain, almost all the others are gone.

The YouTube channel "History Buffs" created a very good documentary about the making of this film, and I present it to you below. 38 minutes long, but I encourage you to watch it, well worth, I think, your time:



Here's a bonus for you: If you'll actually watch this documentary, please email me and let me know what you thought of it, and I'll include you in a drawing to receive a free DVD of the movie.

We have a winner.Tim Smith from Sacramento, California wrote a very good review, he obviously spent some time on it, and a copy of "A Bridge Too Far" is headed his way. Thanks, Tim.


Please visit my travel blog to learn more about my life on the road.





Global Air Aviation Referral Service


---
I welcome responses, and will be glad to post them here. Email your remarks to ron@global-air.com
---
June 6, 2023: www.fark.com picked up this editorial and posted a link on their website, resulting in several thousand visitors, with lots of comments, pro and con. More
---