June 10, 2011
Ignoring Clint Eastwood's advice in "Dirty Harry" that opinions, like certain body parts, are best kept to yourself.
---
My Mother's WearEver Frying Pans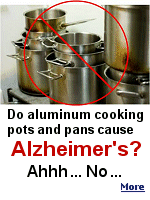 I was 4 in 1947 when the WearEver salesman came to our door in Huron, South Dakota and sold my mother a set of aluminum cooking pots and pans. I remember it was a major purchase, my folks didn't have a lot of money, my Dad was just home from the war, and had gone back to work with the National Bank of South Dakota.

The salesman showed Mom all those nice shiny pans, and I remember the words "lifetime guarantee" used. He had to come back the next day after Mom and Dad discussed the purchase, and that next night cooking dinner with all that shiny new equipment was a big deal.

Over the years, the family took the pans for granted, as they got darker with use, and the wooden handles started to fall apart. Then, when I was in high school, a new WearEver salesman came to the door, and my mother had a chance to finally catch them on their "lifetime guarantee". The man was trapped and had to return the next day with brand-new wooden handles for everything.

Those new handles would have been in about 1960, Mom passed away in 1985, and when my Dad died in 1993, the household possessions, including the cookware, went in various directions with family members, and I wound-up with the two big frying pans. If they ever had covers, they were gone, but a couple of years ago at a flea market I picked-up two of the newly desired glass covers that would fit these big pans, and unlike the old solid covers, I now could see what I was burning.

The pans went into regular use at our house, continued to get darker and stained, and the bottoms went totally black. On close examination, you can see small semi-circle dents in the bottom of each, caused by my Dad's occasional taking them out to the front concrete steps and using a hammer to beat the warping bottoms flat again

Somewhere along the line, a story emerged in the press about how using aluminum cookware contributed to coming down with a good case of Alzheimer's Disease, and my wife insisted we get rid of the old aluminum pressure cooker and buy a new stainless steel one, and I also bought a new set of cookware made of the same material. Fortunately, the thought of throwing away these big frying pans was never considered, and they went into hiding in a kitchen cabinet.

Well, that "aluminum pans cause Alzheimer's" thing was eventually debunked. Too late for my aluminum pressure cooker, but the frying pans went back into service.

Last night, Hazel made Swiss Steak when I discovered two big packages of round steak in the freezer. I went to the grocery for tomatoes and a large green pepper, and both pans were used. A great meal with lots of leftovers, and as I was cleaning up after dinner, I mentioned how nice it would be to try to restore these things to some former glory.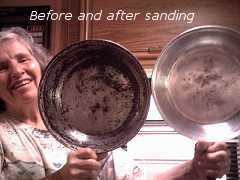 I awoke this morning to the sound of my wife out on the deck using a small electric sander on the frying pans. Years of use was coming off in minutes. One pan still needs a couple of whacks on the bottom with a hammer to cure a little warping, and a can of black spray paint will renew the wooden handles.

Unless, of course, some young WearEver salesman rings our doorbell and I can get new handles under that "lifetime guarantee".





Global Air Aviation Referral Service


---
I welcome responses, and will be glad to post them here. Email your remarks to ron@global-air.com
---
I enjoyed your WearEver tribute, and was reminded of a set of old Craftsman tools my father left me. He probably bought them in the early 50's. The Crescent wrench was especially well used and the screw adjuster was loose and sloppy. I would never throw the tools away but I couldn't really use then very well either.

One day a friend was pawing through my tool box and unearthed the old Crescent wrench. He told me "these came with a lifetime guarantee". Apparently if I took it back they would replace it. I chucked it in the trunk of the car, and next time I went by Sears, I took it in just to see. Sure enough, some 60 years later and with no receipt, they handed me a new one. I was unhappy to let the old one go, so they let me have it to keep. That was an especially nice surprise.

I was impressed. That was the sears I used to know. That was the Sears that supplied the westward expansion, the Sears my Dad trusted. Unfortunately, after years of corporate overlord ownership changes, many of the earlier things great Sears was known for evaporated. But not that tool department.

If and when Sears breathes it's last breath, I hope somebody with some sense reopens the Craftsman Tool Store with the same great products, warranties, and attitude. It's rare these days and getting more rare as we go. Everything seems to be built cheaply, made to last a short time, and worked on by offshore hands.

I'll be glad to be Sears tools customer.

Gary Leeks
Tucson, AZ
---

Most Recent Editorial
Recent Global Air Links: