June 14, 2008
Ignoring Clint Eastwood's advice in "Dirty Harry" that opinions, like certain body parts, are best kept to yourself.
---
Did we lose the Dress Code?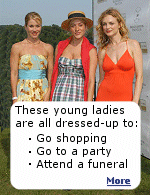 The other evening I was driving downtown, and passed the local funeral home where a wake was being conducted. This usually means the funeral would be at one of the local churches in the morning, and friends and family were stopping-by to pay their last respects to the person lying inside. I've been to a lot of wakes and funerals, and at my age, I'm sure I'll be attending them more frequently in the future.

In recent years, I've noticed that people no longer seem to follow the dress codes of our parents and grandparents, and it is getting hard to distinquish those attending a funeral from those going to a party at the beach. The mourners (perhaps they didn't know they were mourning) in front of the funeral home were dressed in golf shirts, jeans, slacks or shorts, and wore tennis shoes. I spotted one fellow wearing a t-shirt with a half-offensive remark printed on it, torn jeans, and shower clogs. I'm sure the deceased or the immediate family did not anticipate this breach of social etiquette, except for the members of the immediate family who were wearing golf shirts, jeans, slacks or shorts, and tennis shoes.

A few years ago, I went to a wake for a family friend, and I was the only guy in the room wearing a suit. Even the guest of honor, a man in his late 40's didn't have one on, lying instead in the coffin with freshly dry cleaned jeans, a jean jacket and shirt. Turns out, he never wore a suit, didn't own one, and the family decided to bury him in what he normally wore. My mistake, not to inquire what the deceased would be wearing.

This past winter, my wife and I attended the opera, our son Jim sings with the Minnesota Opera Company. It was a gala event, and Jim had arranged for a good deal on tickets that normally ran well-over $100 each.My wife wore a nice dress, and I had on my best suit (that I could still fit into), a dignified necktie, my one decent dress shirt, and had even found my wingtip shoes hiding in the back of the closet.

The couple sitting to our right were really dressed for the opera, the woman wore a 19th century formal dress with a train, long white gloves, and a diamond tiara. Her husband had on a tuxedo of the same vintage, a white bow tie, and carried a top hat and cane. They were absolutely stunning, and it was obvious they were enjoying the opportunity to dress-up.

The couple to our left were wearing t-shirts, jeans, and tennis shoes. They had, no doubt, just come from a funeral.




Global Air Aviation Referral Service


---
I welcome responses, and will be glad to post them here. Email your remarks to ron@global-air.com
| | |
| --- | --- |
| | |
Most Recent Editorial
Recent Global Air Links: