June 24, 2010
Ignoring Clint Eastwood's advice in "Dirty Harry" that opinions, like certain body parts, are best kept to yourself.
---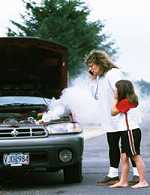 I dropped in to see my neighbor Jim this week, and caught him on the way out the door to pickup his grandson at the gym. "Come along, I want to tell you a story" he said. So I climbed in his truck and we headed to town. Jim said that the night before, his wife had called in a panic on her cell phone. She was driving to visit a friend, and as she was pulling into her friend's driveway, the "check engine" light came on. Oil was running out of the engine and on to the driveway.

What to do? This looked serious. Jim called the auto club, they showed-up in a few minutes and towed the car to Jim's mechanic, Nate Grev at Integrity Automotive here in Princeton, Minnesota. It was evening, but Jim knew that Nate would be right on the problem in the morning.

Later the next day, my friend received a call from the mechanic, saying the car was ready and he could come down and pick it up. When Jim arrived, Nate explained that a clip holding an oil line had broken,causing the line to leak, but fortunately it had just happened and the engine was turned-off before any real damage could be done. Good news.

Jim said Nate looked a bit embarrassed and said the problem might have been his fault. A few months before, he'd replaced one clip on the oil line, but not the other, thinking it would be ok, it wasn't. Jim looked at the bill, a lot of work had been done, repairing the damaged oil line, changing the oil, and cleaning the mess from the bottom of the engine, all at "no charge". Nate even offered to pay the towing bill.

My friend Jim was in shock. "Never in 50 years of driving has a mechanic ever been so honest with me, and willing to take the responsibility for a mistake", he said. Being a year older than Jim, I had to agree, never in 51 years of driving have I ever had that happen to me. The name of the shop says it all, Integrity Automotive.





Global Air Aviation Referral Service


---
I welcome responses, and will be glad to post them here. Email your remarks to ron@global-air.com

Most Recent Editorial
Recent Global Air Links: