July 5, 2012
Ignoring Clint Eastwood's advice in "Dirty Harry" that opinions, like certain body parts, are best kept to yourself.
---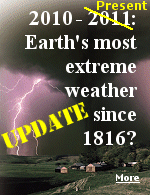 I've never been quite sure if there is such a thing as "global warming", but the weather patterns so far in 2012 could make a believer out of me, and a lot of other people. Some weather experts say extreme weather patterns have always existed, and recorded history of these things only goes back a couple of centuries, so, what is considered unusual weather may be completely normal.

Last week, storms with straight-line winds, known as derecho, raced across the Eastern part of the United States, downing trees and power lines, knocking out electricity and other services for millions of residents. A week later, a lot of them are still not back on line, all of this with temperatures in the 90's Fahrenheit. Steve Weaver, an aircraft dealer in West Virginia, lost trees and power at his family's bed and breakfast along the Tygart River. A generator kept the refrigerator and freezer going, and gas for chain saws and vehicles was suddenly a prized possession. One of those things we take for granted, it takes electricity to pump gasoline, and many stations were quickly out of gas, or could not get it out of underground tanks.

I'm in my motorhome, parked at Arnold's RV Park in International Falls, Minnesota, and fortunately for me and my fellow campers, the weather has been cool this week, only getting up into the 80's, not like the 95's we've been experiencing. High winds with violent thunder storms knocked over trees and power lines all over Minnesota in recent days. I drove through Grand Rapids, and saw many fine old trees lying in streets and yards, with crews of men with chain saws turning them into barrel stove fuel for Minnesota's next winter.

Power outages, at least those lasting a few hours, are not a problem for me, I've got a generator in the motorhome, and enough fuel to run it for several days. But, right now, what I can't just reach out and get is an internet connection. All of this weather is a big problem for the providers, even with the emergency procedures put in place after Hurricane Katrina. Logging on is spotty at best in many parts of the country, including here in Northern Minnesota, especially with a wireless connection. Yesterday, I was able to update my website early in the morning, but later my access was denied, with a message that I had reached my roaming limit. A call to Sprint verified that I'm still grandfathered in with the unlimited access foolishly offered to me 10 years ago, and it is "the weather" that is keeping me out of touch with the outside world, not my loyal friends at Sprint.

So, I sit here looking out the window at fellow campers walking, riding their bikes, or heading to the lake with fishing rod in hand, doing all of those things I used to do before the internet. It reminds me of a news item from last week, when the "Twitter" system went down, and by some miracle, a Tweeter was able to send one last desperate message out to the world that read, "My life, as I know it, is over ... "




Global Air Aviation Referral Service


---
I welcome responses, and will be glad to post them here. Email your remarks to ron@global-air.com

Most Recent Editorial
Recent Global Air Links: