July 14, 2010
Ignoring Clint Eastwood's advice in "Dirty Harry" that opinions, like certain body parts, are best kept to yourself.
---
FEMA Trailers back in the news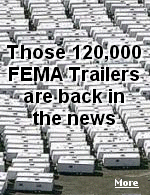 I was reading an article in "Mother Jones" about how some of the 120,000 FEMA trailers are being resold, and people still have their undies in a bunch over the formaldehyde issue: http://motherjones.com/blue-marble/2010/07/femas-formaldehyde-trailers-are-back-gulf

The article says "new car smell" is formaldehyde, and nobody complains about that, and I'm thinking, here I am sitting in my 26 year old Tioga motorhome this fine July morning, and the "new motorhome smell" is long-gone, where did it go? So, I did a little googling and it turns-out that it isn't just the FEMA trailers that have this problem, if you want to call it that, it is pretty-much all recreational vehicles right up to and including those ones that go for hundreds of thousands of dollars.

This website evaluates RV's for formaldehyde: http://rv.org/p17837.htm and has some interesting reader comments from people concerned about the issue ( one guy even had his blood checked for levels of the stuff ). But, in amongst all the negative comments, was this one from a guy suffering from common sense:



I purchased a 2008 Fleetwood Discovery and it was loaded with formaldehyde. I had to drive it home with all the windows open. I then decontaminated it. It only took a week with an ozonator -- using it in the proper fashion.

The facts are that if the (FEMA) trailers were opened to the atmosphere and left that way for a while the normal ozone in the air would have cleansed it (the formaldehyde fumes) from the trailer. Good 'ole fresh air will do the trick also. It just takes longer.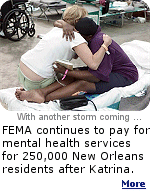 FEMA spent $2.7 billion for 120,000 trailers to provide emergency housing, that's $22,500 each. Assuming they sheltered a family average of 4, we're talking about emergency housing for about a half-million people in an efficient manner. Many thousands of others were lodged at motels with room service, and some are still there, not feeling up to moving on with their lives. FEMA also paid for mental health services long after the storm was over.

What could the government have done with the $22,500 per-trailer expense to help these people? Those trailers, neat and clean with air conditioning, showers, comfortable beds and efficient kitchens provided safe and adequate emergency housing. But, for the same amount of money, we could have sent them all to Europe for a few months, like this family: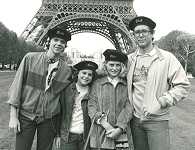 Maybe that would have been a better idea, you think?





Global Air Aviation Referral Service


---
I welcome responses, and will be glad to post them here. Email your remarks to ron@global-air.com

Most Recent Editorial
Recent Global Air Links: