July 24, 2011
Ignoring Clint Eastwood's advice in "Dirty Harry" that opinions, like certain body parts, are best kept to yourself.
---
December 2nd, 1952 was my 9th birthday, a Tuesday, but to keep things simple, my folks had my party a few days early, on Sunday. The plan was to invite ten of my friends to see a movie at the downtown theatre that seemed perfect for a bunch of nine year olds, a western, "Son of Paleface" starring Bob Hope, Jane Russell, Roy Rogers, and Roy's horse Trigger. So, my friends were invited, my mother made a birthday cake on Saturday night, and a gallon of ice cream was purchased.

Sunday morning, our family went to the 8 o'clock mass at St. John Vianney Church, and we were home after 9 getting breakfast ready, when the phone in the kitchen rang. My mom answered, and it was the mother of one of my friends invited to the party. The lady said she'd seen that morning's church bulletin, read the section where the local movies were rated by the Catholic Legion of Decency, and there was a big problem.

Back then, the Catholic Church rated all movies, giving them an "A", a "B", or in some rare cases, "Condemned". Since going to a "B" movie was a mortal sin, punishable with an eternity of damnation, I could only guess that going to one marked "Condemned " was even more painful.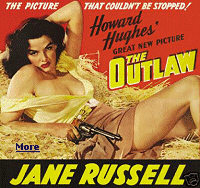 "Son of Paleface" was rated "B". We figured out later it was because the co-star buxom Jane Russell had been in the 1943 Howard Hughes movie "The Outlaw", wearing a low-cut outfit with a lot of cleavage hanging out over the audience. So, the Legion of Decency decided to ban any movie Miss Russell was in.

From across the kitchen, I could hear the woman on the telephone screaming, "MY SON BILLY ISN'T GOING TO THAT FILTHY MOVIE, AND IF YOU SEND THESE KIDS TO IT, YOU'RE ALL GOING TO HELL!! Then, she hung up. My mother looked shocked, and turned to my dad "Glenn, what should we do?" My dad was pretty level headed, and replied "Heck, the movie has Bob Hope and Roy Rogers in it, how bad could it be??" So, we went.

As a kid turning 9, I started to wonder what exactly Jane Russell was going to do that was so sinful? My interest was up. Dad had given me money for the now 10 tickets, for me and 9 of my friends, little Billy didn't show, and looking back at the pricing, it was a pretty good deal. A kid's ticket was 10¢ plus 2¢ tax, a box of popcorn was 5¢, and if you really wanted to splurge, a box of dots or similar candy was another dime. Dad had gone all out, giving me $3 to cover it all, 27¢ a kid for the movie, popcorn, and dots, and I even had a little change left over. Today, that party would cost about $10 bucks each.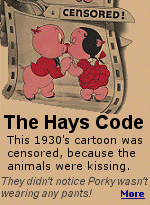 We got all settled in, the lights dimmed, and we watched some "previews" of coming movies, a news reel showing what was going on with the war in Korea, a Porky Pig cartoon, and finally, the feature film began. (I miss those news reels and cartoons.)

Bob Hope was predictably funny, Roy Rogers was a hero, and Jane Russell was beautiful. The closest thing we saw of the rumored thing called "sex" was a bubble bath scene, where Miss Russell was in a tub with soap suds up to her chin, but it was enough for a bunch of nine year olds.




Global Air Aviation Referral Service


---
I welcome responses, and will be glad to post them here. Email your remarks to ron@global-air.com
It is amazing to me how much oppression organized religion has levied upon others. All of this is in the name of goodness. From the Crusades to rating movies for 10 year old kids.

When I was a kid I could say "Gee", but not "Geez", because "Geez" was to close to "Jesus". "Oh my gosh" was OK, but "Oh my God" was off limits.

Oh Christ! I can't keep all of this straight. (Or should I say " Oh Cripes"?)

a) I am a spiritual guy, but I have a bit of a skeptical side.
b) I am an atheist and consider all religion to be nothing more than superstition.

A reader may choose from the above two items if it makes my comments more palatable.

Dave dontsteponmy Johnson - Bullhead City, AZ
---

Most Recent Editorial
Recent Global Air Links: