August 18, 2015
Ignoring Clint Eastwood's advice in "Dirty Harry" that opinions, like certain body parts, are best kept to yourself.
---
People I'm taking with me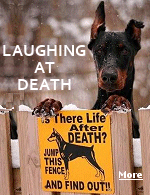 A man isn't feeling well, so he goes to the doc for a checkup. The doctor runs a bunch of tests, has the guy sit down in his office and says to him "I've got bad news, you've got rabies, and you only have a few days to live". The guy asks the doctor for a paper and pencil, and starts writing like crazy. "Are you making out your will? the doc asks. "No," says the man, as he continues to write furiously, "I'm making a list of the people I'm going to bite".

Something reminded me of this story recently, it got me thinking about my own end of life, and I decided that when I go, it would only be right to take a few people with me.

This, of course, is not going to happen, but I entertained myself putting together a list of prospective fellow passengers on that last flight to the great beyond:
That guy I know who is always telling people that "he'll pray for them". Telling someone that you'll pray for them is basically saying you're not planning on doing anything to actually help.
The next store clerk who asks me if I'd like to donate to their new pet charity. Everybody has a cause.
The two kids on bikes, wearing short sleeve dress shirts with name tags, who ring your doorbell and try to convince you to become a Mormon.
The next anybody who rings my doorbell and tries to convince me to do or buy anything.
The local cop who hides down the street with his radar gun on the last day of the month, trying to make his quota.
Any politician who thinks it is ok to take money from the 49% who pay all the income taxes and give it to the 51% who pay no income taxes at all. Oh wait, that would be all of them.
And, for sure, I'll be reaching up to strangle the hospital chaplain if he starts that "Yea, though I walk through the valley of the shadow of death" thing, a guaranteed way to scare patients to death, finishing them off right then and there.


I'll bet you have a few ideas to add to this list, send me an email.




Global Air Aviation Referral Service


---
I welcome responses, and will be glad to post them here. Email your remarks to ron@global-air.com
You forgot the Jehovah's Witnesses, who, if you EVER let your responses to them sound even vaguely warm, will never stop trying again, ever.
- Gary in Arizona
---
Cute article, but I wouldn't want to spend my after life traveling with those dopes. - Sarah in Washington, DC
Ron says: I wasn't planning on taking the same plane.
---
It might surprise you to read that I also don't like the phrase "pray for" someone. The implication is that I want for them what they want, but they might not know what's best. Maybe it's best that someone who's very sick should die.
- Jeanette in Minnesota
---

Most Recent Editorial
Recent Global Air Links: