September 9, 2012
Ignoring Clint Eastwood's advice in "Dirty Harry" that opinions, like certain body parts, are best kept to yourself.
---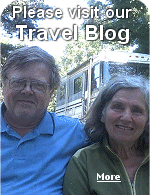 A couple of weeks ago, my wife and I drove down to Minneapolis to visit our daughter Sarah. Our youngest is attending law school, and just moved into an apartment with two other law students.

For some reason, I'd taken out my wallet, noticed my AARP card, and mentioned that my wife and I had eaten at Denny's restaurant the other day, and our coffee was only a dollar with my AARP membership.

"Dad", my daughter said, "you really like being old, don't you?"

That statement really struck me, I mumbled something about getting older was better than the alternative. But, on the way home I got to thinking, and being a "senior citizen" is a pretty good time in one's life. My dad used to say that life begins when the kids leave home and the dog dies, but since we still have a couple of kids on the payroll, and more dogs than should be legal, I'm still waiting for those events.

In addition to a discount at the local liquor store, a break on Amtrak and airline tickets, and cheaper movies on Friday afternoon at the local theatre, most seniors enjoy lack of house and car payments, and the time to take trips. A friend once told that he regularly visited old friends at a nursing home, and they always talked about the trips they took. Motorhomes like mine, or nicer, go well with being a senior citizen, my wife and I have logged about 20,000 miles in the past two years, with trips to Florida in the winter, and we even went to Newfoundland last year, a 5,000 mile round-trip from Minnesota.

What would retired people do without the internet and email? In the old days, communication for friends and former workmates was limited to the Christmas brag letter and vacation postcards. Not anymore, hardly a day goes by that I don't get an email from an old friend.

I've learned routine is important, and television plays a big part in that. In the morning, I get coffee going, and my wife turns on "The Today Show". But when programming on that show gets into desperate areas like cooking or reusing aluminum foil, I start griping, and she changes the channel. At 9 am, "Perry Mason" is on, and we hardly ever miss it. A friend of mine winters in Florida, he checks the weather channel first thing every morning, and then gets on the phone to call other retired friends down there, "Hey Bill, it's -40° below in International Falls, those poor sons-o-bitches ..."

After lunch comes one of the more important duties of a retired person, the required "senior nap". My wife has trouble sleeping, but not me, I can go unconcious anytime and anyplace, and when I lie down, my cocker spaniel "Nuggie" and pomeranian "Junior" will jump on the bed, snuggle up to me, and we're all out like a light for an hour or more.

Later in the afternoon, it is television time again, with "Millionaire" at 4 pm, "Jeopardy" at 4:30, followed by the news, and then at 6:30 is the show that is absolutely required of all senior citizens: "Wheel of Fortune".

I've taken to cooking dinner, giving my wife a break after 46 years, and usually have something good, although she complains about too much spaghetti and meatballs. I've expanded the menu to include steaks on the grill from the "road-kill bin" at the local supermarket, roasts cooked in beer in the slow cooker, and I've learned to keep up with dishes, so the sink is generally empty.

Someday, I'm going to make someone a fine wife.




Global Air Aviation Referral Service


---
I welcome responses, and will be glad to post them here. Email your remarks to ron@global-air.com
Now you've done it. Now the whole world knows your sedentary lifestyle. You're going to thunder into the hereafter early, but well rested. Steve - West Virginia
---
I liked that editorial real good. Dave - International Falls, MN
---
Loved the joy of being an old guy-turns out that I resemble that! I must say that we are really enjoying retirement and the freedom that comes with it. We get to sleep in our same bed each night, but the house moves (full time in the motorhome). Rick
---

Most Recent Editorial
Recent Global Air Links: