September 10, 2008
Ignoring Clint Eastwood's advice in "Dirty Harry" that opinions, like certain body parts, are best kept to yourself.
---
Low Turn-Out on Primary Day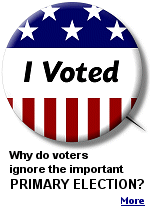 Yesterday was Primary Day, the second Tuesday of September, so I drove down to the town hall, expecting to stand in line, but walked right in, the only voter in the building. I was out in 5 minutes. After 9 O'Clock last night, the election returns were coming in on our local station, and the announcer mentioned that only about 10% of eligible voters in our State turned-out.

I realized that I really hadn't heard or seen much about the election. I might have missed them, but there weren't any big announcements on the radio or tv, and there were no signs posted downtown or along the highway.

Considering there were several candidates running for the U.S. Senate seat here in Minnesota presently occupied by Norm Coleman (R), one would think it important to be sure your candidate had a chance to compete. Evidently not. That particular race has been interesting, with the incumbent calling challenger Al Franken a carpetbagger, and another candidate is the daughter of Miles Lord, a long-time Minnesota political legend. Coleman grew-up out East and moved to Minnesota to get involved politics. Franken grew-up in Minnesota, and moved East to pursue a career in entertainment, coming back to Minnesota a couple of years ago. Who would be the "carpetbagger", I wondered, Franken was born and raised here, Coleman was not.

It struck me that a poor turn-out for the Primary could be beneficial to those running. Think about it, if you were the incumbent and weren't in any serious trouble, wouldn't you assume the majority of those showing-up would vote for you? You might think that way. Similarly, a new challenger, especially one with a single-issue interest, like Pro-Life or Pro-Choice, knowing that voter turnout will be light, might be able to rally loyal followers to come in droves and out-vote the lethargic supporters of other candidates. It could, and has, happened. A Google search for "primary election low turnout" produced a 2006 article in USA Today supporting my theory.

So, about 10% of eligible voters in our State narrowed the list of potential State Senators from 16 to 3 last night. In November, 40-50% of eligible voters will say who will go to Washington to pull us out of the hole somebody dug last time around.




Global Air Aviation Referral Service


---
I welcome responses, and will be glad to post them here. Email your remarks to ron@global-air.com
Most Recent Editorial
Recent Global Air Links: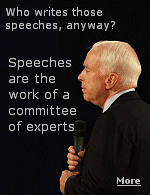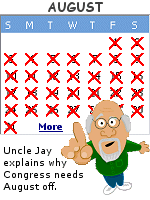 Today's Global Air Link