October 4, 2021
Ignoring Clint Eastwood's advice in "Dirty Harry" that opinions, like certain body parts, are best kept to yourself.
---
So much for dating services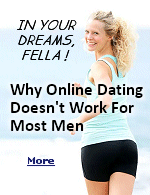 From the article to the left: If you're like many guys, it's not for lack of trying. You might be spending hours clicking profiles and messaging women on dating sites. You sometimes get a response, but rarely from anyone you actually want to date.

I've been a widower for two years now, and a while back a friend suggested I might find life a bit easier if I found some female companionship. It seems that has worked out reasonably well for ten thousand years or so, going back to when you just clubbed the first good looker you saw over the head and dragged her back to your cave.

So, I went on the internet, did a little checking out, saw one website where the women don't care about your wants and needs, but will just come over and wash your clothes with you still in them, and another that wanted to be sure that the woman you found was a real Christian. I'm not all that religious, or desperate to get my laundry done.

With a little hesitation, I signed up for "Match.com" , it seemed to be pretty straight-forward, and promised to help hook me up with eligible women in my area. Well, that was the first problem, living in a motorhome my "area" is pretty wide, but I put down my daughter's lake cabin, where I spend the most time, at as my address. In my profile, I put in my true age of 77, and that I was interested in meeting someone in my situation, a widow preferably, because, (and I didn't say this) for one thing, I didn't want to wind-up with some other guy's problem, or have an ex-husband lurking around in the background. I felt a widow would be more understanding to my situation.

I uploaded a few recent photos of myself, paid the $150 bucks for 6 months of service, and I was off into dateland. Or, so I thought.

Within minutes, Match sent me photos and links for a dozen women within 100 miles of the lake cabin, with ages running from 50 to 80 and beyond. A couple of them were very attractive, widows, and I responded right away. Those messages were never returned, these women were getting hit on, probably, hundreds of times a day. After a few of these I figured that out, and just sat back to see if anyone would send me an inquiry.

And, some did come in. One woman seemed terribly interested in me, but her photo made it look like she'd just been beaten with the ugly stick. Out of focus a bit, and with a terrible scowl on her face. I messaged back, telling her that perhaps a better photo would help on this dating thing. She replied "Well, I'll you know that that is my PASSPORT PHOTO!" Sometimes the mean streak comes out of me, and I replied "Well, that might get you to Europe, but not very far on this website". Never heard from her again, strange.

Over the next few weeks, I heard from several women, some accused me of "posting old photos", at 77 I couldn't possibly look that young. But, I have the family curse of not looking my age, something now shared by all of my children now eligible for AARP membership. A couple of months ago, I got carded at Goodwill on Senior Day, the clerk had me haul out my drivers license to prove I deserved the discount.

A couple of women communicated back and forth with me for a while, but all, at some point, confessed that because my home had wheels, and not a concrete block basement, they didn't see a future with me. It was more than obvious that a couple of them were looking for a 401K retirement plan, and a very nice lady who really was a little too old for me, I didn't want to go that many years beyond what I am, said she would like to meet me, but not to be surprised that she used a walker. The walker didn't bother me, but as a recovering Catholic, the "praise Jesus" in every communication did.

What it all came down to was, the lady who wrote the article about how dating services don't work for men was absolutely correct. When my Match membership came up for renewal, I let it drop. Most of the women they were sending me were, I'm sure, very nice people, but not someone you'd like to spend any time with, and after being married to Hazel for 53 years, it would be a tough act to follow.

I wasn't going to take a friend's advice that "I should lower my standards". No, that isn't going to happen. I might have to get a new dog, though, mine died earlier this year and traveling alone is hard to do.

Back a few years ago, my buddies and I were all sitting around the campfire, and the question about how we "wanted to go" came up. One said he'd like to die in his sleep, another thought dying while being heroic, like saving someone's life, would be nice. I said, "I'd like to be shot by Kim Basinger's husband".

I'm still waiting for her to return my calls.


Please visit my travel blog to learn more about my life on the road.





Global Air Aviation Referral Service


---
I welcome responses, and will be glad to post them here. Email your remarks to ron@global-air.com
---
I read your blog about online dating - I laughed so hard I nearly blew coffee out of my nose! - Toni & Scotte in the Black Hills
---