December 22, 2014
Ignoring Clint Eastwood's advice in "Dirty Harry" that opinions, like certain body parts, are best kept to yourself.
---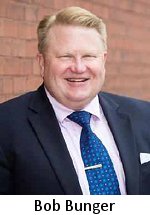 "I felt a great disturbance in the Force, as if millions of voices suddenly cried out in terror and were suddenly silenced. I fear something terrible has happened." Obi-Wan Kenobi

On Monday, December 15th, I was sitting here doing something on my website, when out the blue came a mental 'post-it-note'. As I get older, I get these often, usually one will pop-up in my brain to say "I left the water running!" or "I forgot the pizza in the oven!" We all get these, but this was different.

Coming out of nowhere, the mental alarm said "Whatever happened to Bob Bunger?" Strange, I worked with Bob over 20 years ago, and haven't seen or talked to him since leaving the bank in 1993, but for some reason, I was suddenly wondering about him.

Bob was a bright young local fellow hired by the bank to work at our Milaca, Minnesota office. He was one of those people you liked to hire, being a popular local guy with a lot of friends and connections.

Banking is one of those business where almost everyone, other than the support staff, comes from the outside and are never really accepted by the community. I sure knew that, having worked at several small town banks over a 35 year career. I remember a bank Board of Directors meeting in International Falls, Minnesota back in 1980, when a sizable new loan was being discussed for someone the bank had not previously dealt with. One director asked "Is this fellow from here?" Another director chimed in, "Well, he came here after the war, (meaning World War II) but he's not from here."

While I didn't work with Bob on a daily basis, we would be in meetings together, I saw him regularly, and he was always very pleasant. We didn't socialize, I'd never been to his home, and I don't think I ever met his wife. I have no idea what he thought of me, but I liked Bob, as everyone else did.

21 years have passed without contact at all, I've never run into him, and I seldom get to up to Milaca, 15 miles away, other than to renew my drivers license there every four years.

So, why did I suddenly become concerned about him on December 15, 2014?



Robert Bunger
By Princeton Union-Eagle on December 19, 2014 at 9:00 am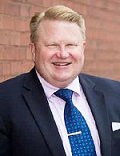 Funeral services for Robert "Bob" Bunger, age 54, of Milaca, will be held on Saturday, December 20, 2014 at Milaca United Methodist Church with Rev. Joyce Slostad officiating. Arrangements by Peterson-Johnson Funeral Home of Milaca .

Bob Bunger passed away on Monday, December 15, 2014. With deep regret, Bob leaves behind the joys of his life – wife, Marsha (Jacobsen); son, James; and daughter, Annie. He is immeasurably proud of what wonderful people his children have become. James is a graduate of the College of St. Scholastica and launching a successful business career, while Annie is a freshman at Hamline University with a world of adventure ahead for her. Bob is forever grateful for the love and support of Marsha over their 26-plus years of marriage.

Bob was born on March 26, 1960 to Rich and Bette (Odegard) Bunger in Princeton, MN. He graduated from Princeton High School in 1978 and went on to earn a bachelors degree from Macalester College and an MBA from the University of St. Thomas. He is a member of the Milaca United Methodist Church. His professional career included time with Bob Bunger's Better Bunnies, political staff positions, the University of Minnesota Foundation, First National Bank of Milaca, Princeton Bank, independent consulting, and, finally, co-founder and principal of HBH Consultants for the past 17 years. He wishes to thank his past and present colleagues with HBH, including Dayton D. Hultgren, Dianne T. McCarthy, Katrina Pierson, and Amy Nord. He especially wants to extend his gratitude to the firm's clients who in many cases have become dear friends over the years.

One of Bob's favorite hobbies was taking photos of Milaca school activities – especially sporting events – and posting the images online for participants and their families to view and download. In addition to his wife and children, Bob is survived by his parents of Princeton/Milaca; his brother, Bill, and wife Chris of Cloquet; mother-in-law, Pearl Jacobsen of Milaca; along with aunts, uncles, cousins, nieces, nephews.




Global Air Aviation Referral Service


---
I welcome responses, and will be glad to post them here. Email your remarks to ron@global-air.com

Most Recent Editorial
Recent Global Air Links: