December 24, 2013
Ignoring Clint Eastwood's advice in "Dirty Harry" that opinions, like certain body parts, are best kept to yourself.
---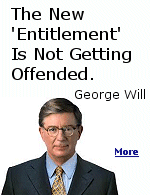 On "Fox News Sunday with Chris Wallace", guest George Will had the last word on how to interpret the First Amendment:"People think they have a right not to have their feelings hurt, not to have their sensibilities in any way exacerbated."

For those of you without a radio or television, or you've been in a coma, Mr. Will was referring to the story all over the airwaves about anti-gay comments made by Phil Robinson of A&E cable television's "Duck Dynasty" in GQ magazine. Gay and lesbian readers, and straight readers who think such activity is nifty, were offended. The uproar caused A&E network to suspend Robinson, a deeply religious man who believes homosexuality is contrary to God's law.

Being offended reminds me of a program I watched a while back on PBS about Petula Clark, the blonde British singer from the 60's. After her big hit "Downtown", she had a television show on one of the networks, I remember watching it now and then, very entertaining. Then there was the night where the guest star was black singer Harry Belafonte and the two of them sang a duet, a romantic song where, at one point, Petula put her hand on Harry's shoulder.

What an uproar, stations in the Bible Belt refused to air the show, and where they did, stations were swamped with angry letters and phone calls from upset white people. The show was sponsored by Chrysler Corporation, and one holier-than-thou viewer wrote to Chrysler saying "he would never buy a Chrysler product again for the rest of his life ... "

I was in the banking business for about 35 years, it didn't take me long to realize that people sure love to be offended, and they get a real rush from the power surging through those righteous veins. One upset customer told me, after the bank screwed up his account and I apologized profusely for the error, "I'M STILL OFFENDED, KEEP APOLOGIZING!!"




Global Air Aviation Referral Service


---
I welcome responses, and will be glad to post them here. Email your remarks to ron@global-air.com

Most Recent Editorial
Recent Global Air Links: